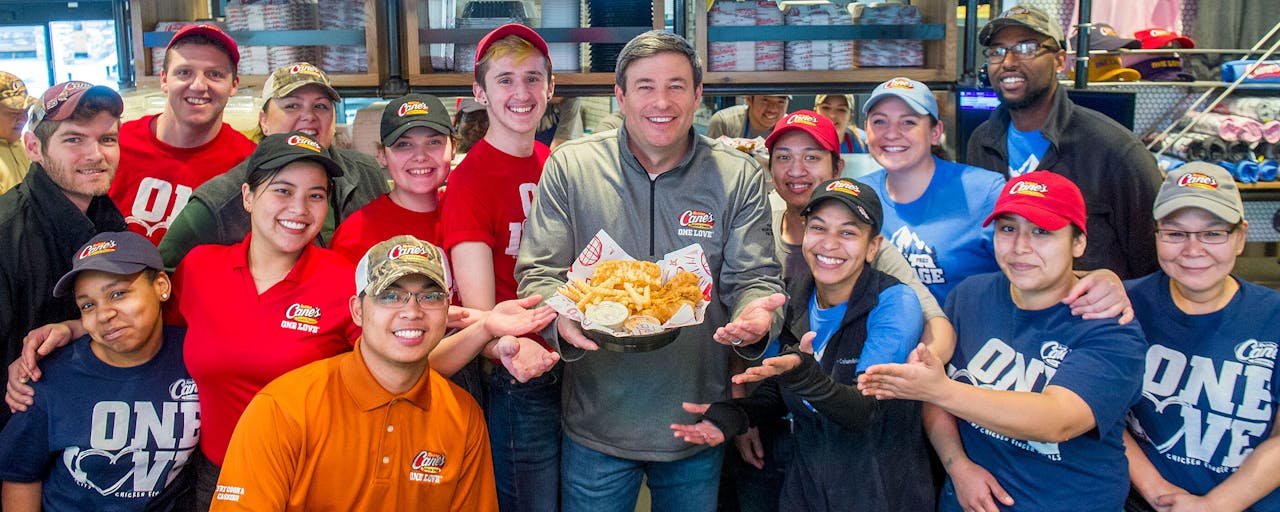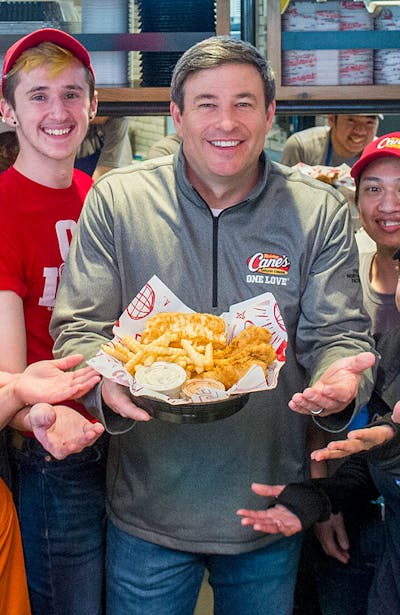 Who We Are
One Dream, One Love
We serve only the most craveable chicken finger meals. It's our ONE LOVE.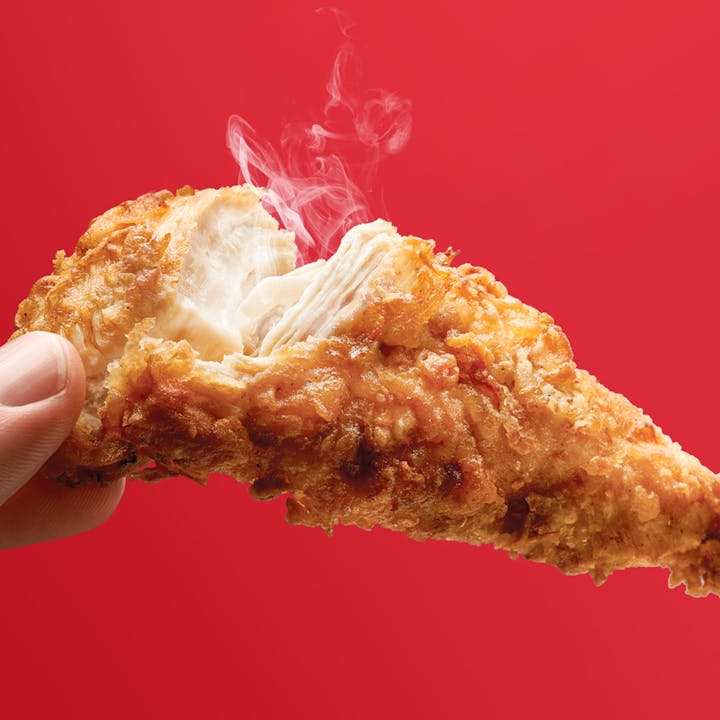 Quality You Can Count On
Our certified "Bird Specialists" hand batter premium chicken that's marinated for 24 hours, then cooked to order for fingers that are hot and tender down to the last bite.
Cooked For You
Three words: No heat lamps. Every meal is cooked to order, because when it comes to fresh, delicious food, we never compromise (and neither should you).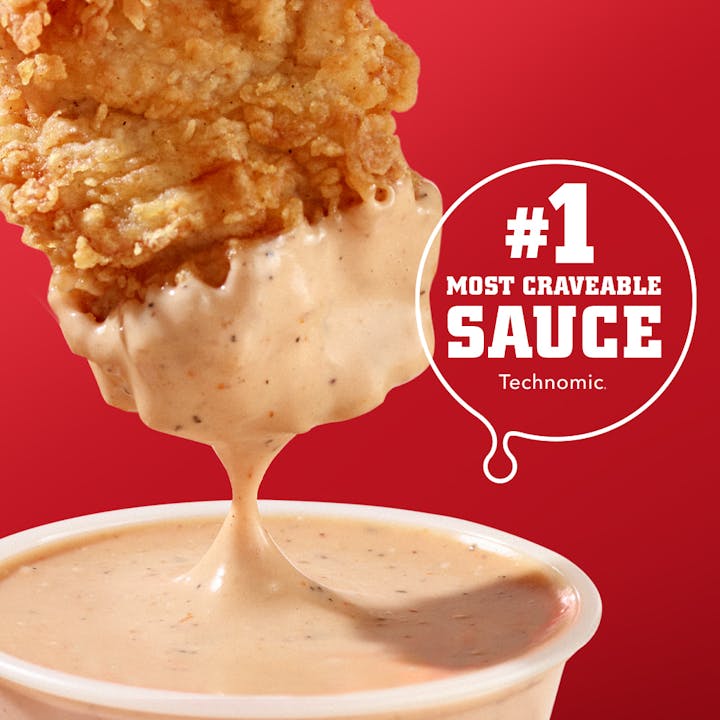 Made Fresh Daily
Our special blend of spices makes Cane's Sauce® the perfect pairing for Chicken Fingers and Crinkle-Cut Fries. Only a few people know our top-secret recipe, which our Crewmembers make fresh daily in every Cane's® Restaurant!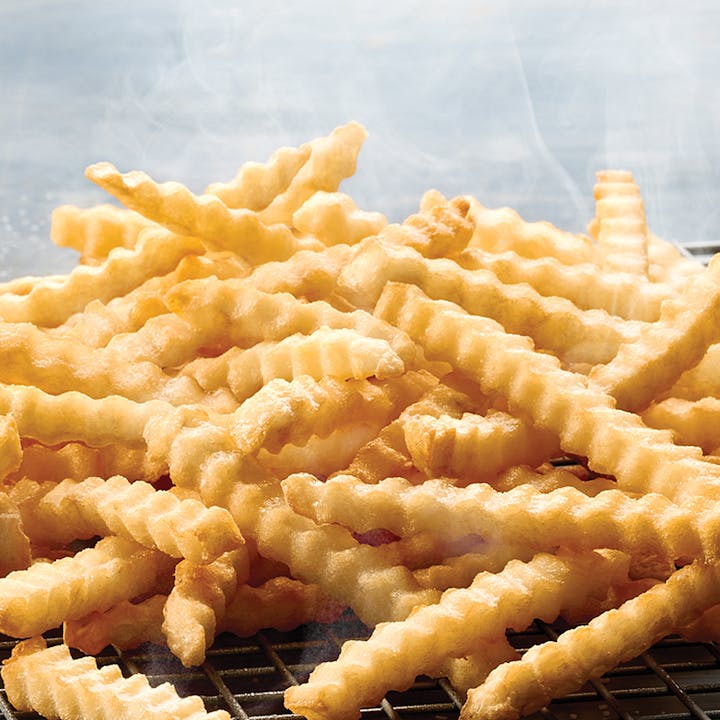 Mouthwatering Sides
Made from center-cut, Grade-A potatoes, our Crinkle-Cut Fries are lightly salted with a crispy bite and a soft middle. And no meal is complete without our Texas Toast - pillowy pull-apart bread with just the right amount of butter and garlic…we're already drooling.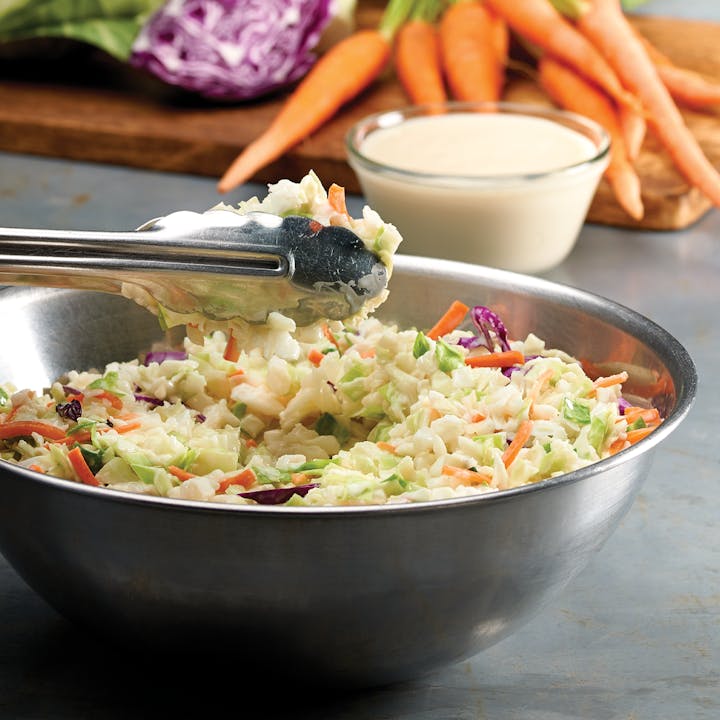 Creamy Coleslaw
Crunchy, cool and refreshing, our Crewmembers mix red and green cabbage, carrots and premium dressing daily so you get the perfect forkful every time.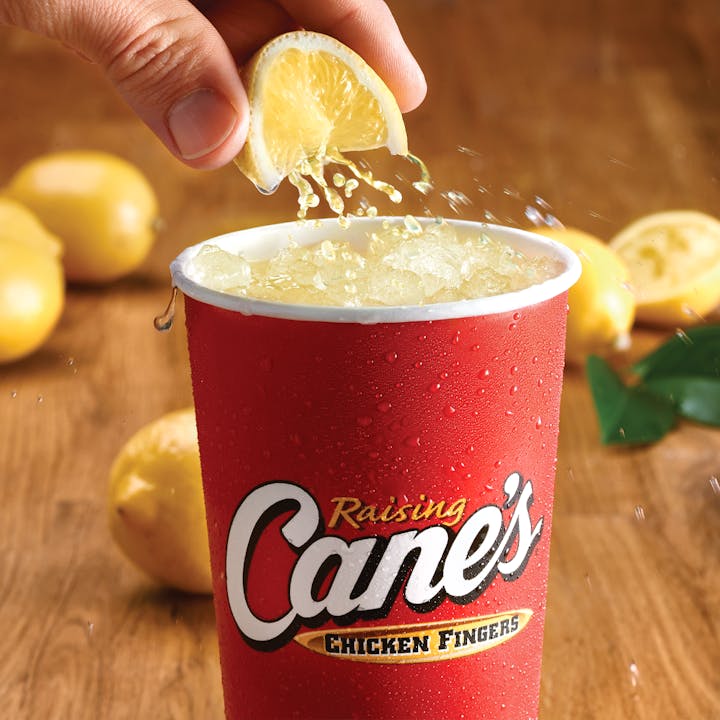 A Quick Refresh
Our famous Iced Tea is brewed fresh several times a day, made with 100% pure cane sugar and served with crushed ice. Order sweet or unsweet and quench your thirst your way. Looking for Lemonade? The taste of summer is available all year long, freshly-squeezed from real lemons to put the fresh back in refreshment.
Todd's vision, our mission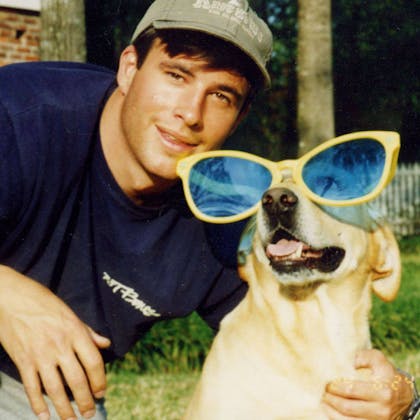 Chasing The Dream
A Restaurant that only serves Chicken Fingers? The business plan received the lowest grade in a college class because the professor said it wouldn't work. When he tried to get loans, the banks said no, but Todd wasn't giving up.
1994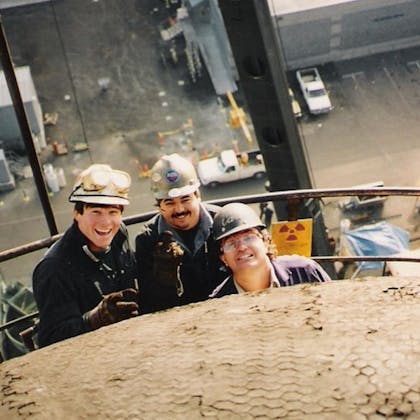 Working Hard
Todd travels to Los Angeles to work as a boilermaker at an oil refinery, grinding through 90-hour weeks to raise the money to fuel his Restaurant dream.
1995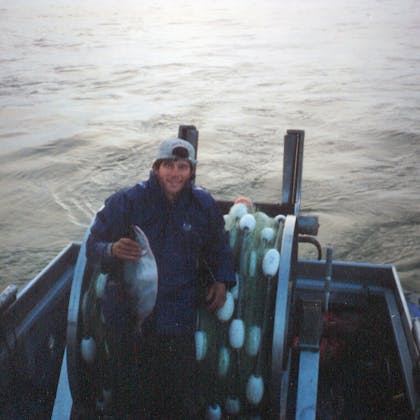 Fishing for Chicken
Learning from a fellow boilermaker that he can earn even more money commercial fishing, Todd travels to Alaska and camps out on the tundra for a month before landing a job on a boat to fish sockeye salmon in Bristol Bay, working 20-hour days in harsh conditions.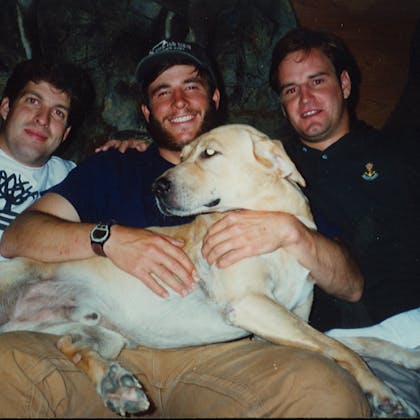 Returning to His Roots
Todd returns home with his hard-earned money. Coupled with an SBA loan, he has enough to start building his Restaurant.
1996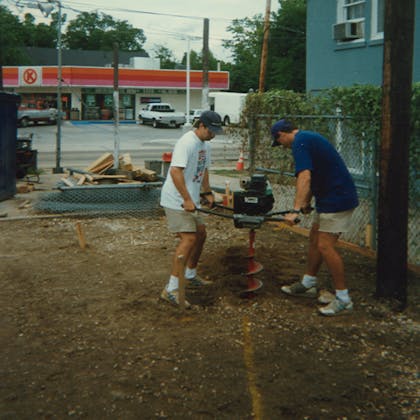 Construction
Renovations begin on an old building at the North Gates of Louisiana State University. Todd, along with friends and a few contractors, does a lot of the work himself.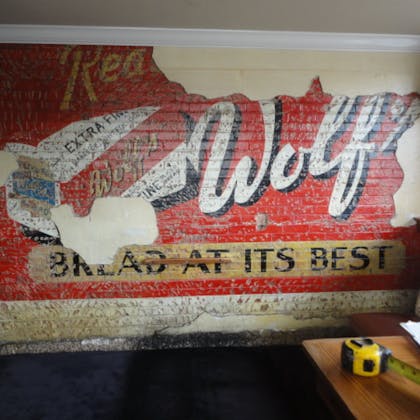 A Sign of What's to Come
During the renovation, Todd chips away at a stucco wall to discover an old painted mural of a bread bakery. He took it as a literal sign that this was going to work. The design later becomes the inspiration for Raising Cane's logo and is why each Cane's has a mural.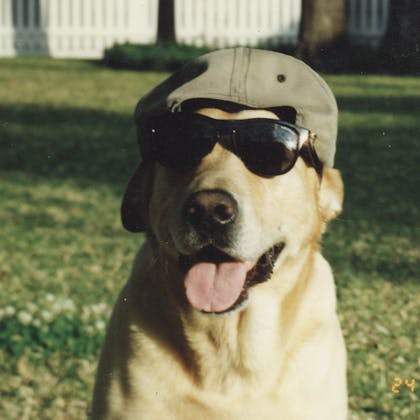 Labrador Namesake
Todd originally planned to call the Restaurant "Sockeye's" as a tribute to his time in Alaska. Instead, he takes a friend's advice and names it after his Labrador Retriever, Raising Cane, who frequented the construction site. Learn more about our namesake and current mascot, Cane III.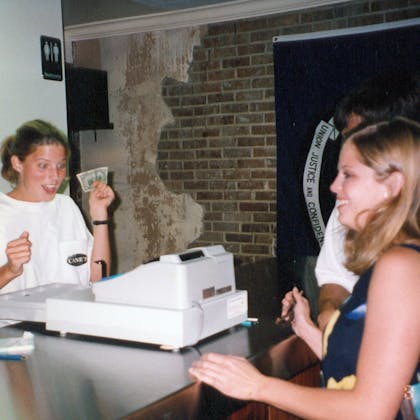 Opening Day
After finally getting the cash registers to work, Raising Cane's opened on August 28th, 1996. It was after 9 p.m. and Todd goes out on the street to wave Customers in... business was so good, the Restaurant stayed open 'til 3:30 a.m.!
Todd Graves - Founder, CEO, Fry Cook and Cashier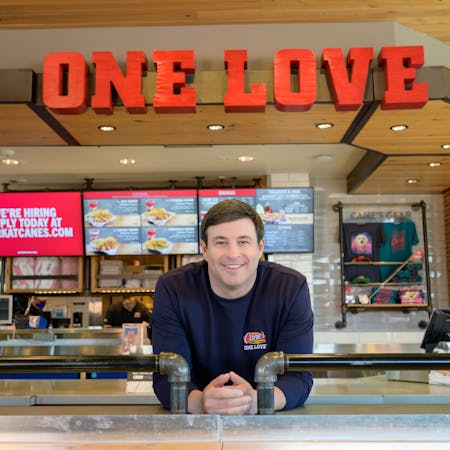 Biography
Todd personifies the entrepreneurial spirit - the promise that with dedication, drive, hard work and a great concept, dreams can be achieved. Only 24 years old when he began his journey, Todd and his Crew have grown Raising Cane's from a single campus Restaurant to one of the fastest-growing large restaurant brands in the U.S. As Founder, Todd remains actively involved with all aspects of the brand, making Raising Cane's one of the few founder-led restaurant companies of its size.
Keep up with Todd by following him on Twitter, Facebook and Instagram!
Recognition
#28 in the Top 100 CEOs in the U.S. by Glassdoor
Ernst & Young Entrepreneur of the Year
SCORE Award for Outstanding Socially Progressive Business
Restaurateur of the Year by the Louisiana Restaurant Association
Louisianians of the Year by Louisiana Life
Television Shows
Restaurant Recovery
In response to the devastating effects of the pandemic on the restaurant industry, Todd created a docu-series called Restaurant Recovery. The series, available on discovery+, sees Graves travel to 10 independent restaurants across the country to help the restaurateur. Description overcome the struggles of operating during a pandemic. Learn more.

Secret Millionaire
In 2008, Todd and Gwen Graves appeared on an episode of Secret Millionaire on FOX, which featured the community of South Plaquemines Parish in Louisiana. An area devastated by Hurricane Katrina in 2005, Todd and Gwen donated nearly $400,000 to benefit several community organizations and established the Cane's Plaquemine Parish Relief Fund.

Appearances
You might have also seen Todd's familiar face on Animal Planet's Treehouse Masters, Discovery's Fast N' Loud and Food Network's Food Court Wars.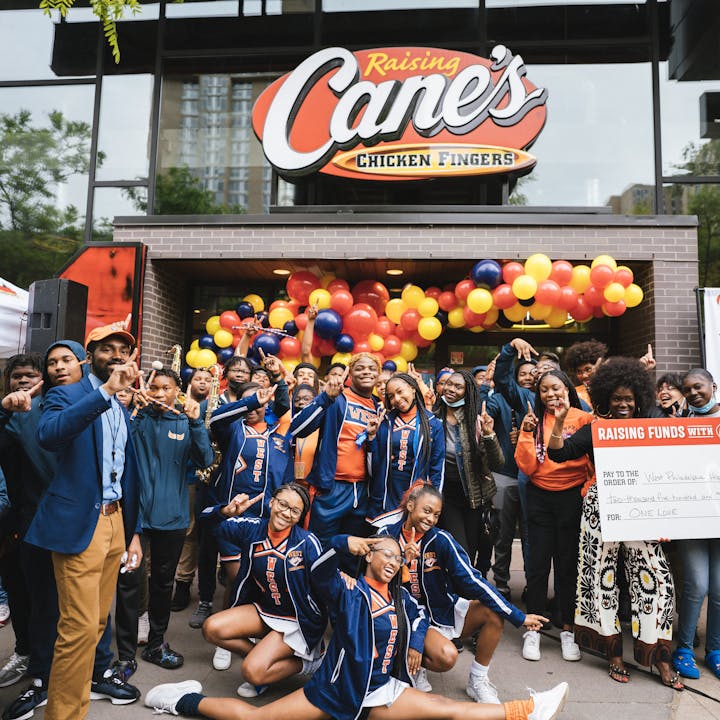 Let's work together for our Community
Raising Cane's is active in our Communities, supporting over 30,000 local organizations for causes that are close to our heart — but we can't do it alone! Get in touch today to help us support your Community.