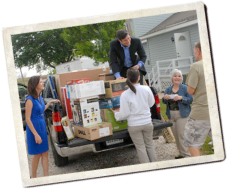 I have been asked to be on other reality shows before, but it didn't interest me to be on these shows.
Gwen and I were attracted to and agreed to go on Secret Millionaire™ because of the executive producer's vision for the show. They wanted to show a National Television viewing audience that people are in need in your own community and raise the philanthropic gifting of money and volunteering of time. Even if it's only a little money and a little time, it can add up and make a difference, especially if millions in this country get inspired to do this after watching the show. That is a powerful vision and my wife Gwen and I wanted to be a part of it.
Doing this reality show could be a potential risk for me because I could at times, be portrayed in a bad way being filmed 24/7 for a week for a reality show. Our businesses are doing great and my company and myself have a great reputation of giving back to the community already.
I truly believe that Secret Millionaire™ will be the motivation people need to help others in their community and the positive impact of my participation in the show outweighed the risks to Raising Cane's® and my personal reputation in the community, in the industry, and with my crew.
Some skeptics may say that I did it to promote my business. While Raising Cane's® may benefit from my appearance on the show, it will also allow the company and me to give more back to the community. Businesses shouldn't shy away from getting credit for their community involvement.
I wanted to take my active community involvement to another level. Through my restaurant business, Raising Cane's® we are actively involved in the communities we do business in – we have given over 27% of everything we make into our communities over the past 4 years.
Active community involvement is part of Raising Cane's® vision and part of our DNA. I am living my dream every day with Raising Cane's®. It started as the worst grade in a college business planning class and I was turned down by almost every bank in town. I had to work as a boilermaker in L.A. refineries and commercial fishing in Alaska to raise money to start the restaurant that I named after my dog, Raising Cane I.
I am so glad it was so hard to start my dream because I have such an appreciation for my crew and the communities we do business in.
We were filmed for 8 days, one day in Baton Rouge and 7 days in the South Plaquemines Parish, Louisiana community.
We didn't know where we were going to film the show until we got in my Suburban to leave and it was marked on a map.
For seven days we lived amongst community members who were struggling to make a difference and we experienced first-hand their successes and their hardships. The South Plaquemines community had been destroyed nearly three years earlier, yet many were living in temporary trailers still waiting for their homes to be rebuilt. In addition to living in a cramped, temporary trailer, everyday these residents had to look at the remnants of their destroyed schools, library, fire station, grocery store, pharmacy, etc.
The people of the South Plaquemines community were told by the production company that they were doing a documentary on their community destroyed by hurricane Katrina and they were hoping to get it on TV and that they were going to tell the story through Gwen and I that we were normal everyday people.
The people of the community were told that Gwen and I were not from Louisiana and were between jobs and didn't have much money.
We lived in a small trailer in the community camp ground.
We had to meet people and ask questions to find out what was going on in the community and who was helping their community.
There was over a 60 person crew there filming.
We had to live on welfare wages, $14 a day, and had to find odd jobs to make ends meet.
We worked at The Black Velvet Oyster Bar and picked oranges one day to earn money.
We volunteered building homes.
It was one of the most incredible and moving experiences of mine and Gwen's life. We met angels walking the earth who live every day to help others before themselves.
It was special that these people didn't know who we were and had no preconceived notions of what we were like.
It was a hard and emotional experience because this was a community where there were so many people that needed help.
We decided to give to 3 people (groups) that had an impact on many people in the community- Coach Cyril Crutchfield- South Plaquemines High School, Reverend Ted Turner- The Volunteer Center and Elaine and Michael Cox- The Gathering Place Community Center.
To be more patient.
To listen more and talk less.
You have to let go and not try to control and fix everything.
That sometimes you have to follow your heart more than your mind.
Gwen and I didn't look at this as gifting, but rather people helping people. The people we gave money to are smart, hard working leaders, but their dream/career doesn't pay much like my dream does. So, it was our honor to lend resources and money to fulfill their dream of helping their community.
We gave well over $100,000, suggested by the show – almost $400,000, because the needs are so great.
Our commitment didn't stop with Secret Millionaire.™ We continue to be involved in this community, many of whom have gone from being strangers impacted by a show to being personal friends. We are committed to seeing this community become as strong as we know it can be again. My wife and I stay in weekly contact with many of the people we befriended offering assistance and support. Coach Cyril Crutchfield and his wife stayed at our house in Baton Rouge during Hurricane Gustav this fall.
Over 130 Raising Cane's® employees volunteered in the area since the filming of the show.
We have established a foundation, Cane's Plaquemine Parish Relief Fund, for anyone who wants to donate their time or money to assist this recovering community.